Before I start to self-review our Ted Talk, I would like to say that this presentation was the hardest presentation to prepare since I was sick.
Quick Intro About Our Team
To start with, our team name is "GG WP" that is "Good Game, Well Played!" which is one of the most popular online game expressions in the world. Our speech was about the definition of series games and how series games are important for education.
Presentation Team
I think our collaboration was pretty good. Everybody tried to get equal amount of workload. What I really appreciate about my team is that everybody got different ideas and experiences to the table. Just like me, my teammates narrowed down to this presentation topic because of their love for gaming and thereby creating a good atmosphere while preparing the presentation.
We met several times to do brainstorm ideas, finding good examples and topics. Mariam was like the leader of the team. She was actually focusing our topics and helping us to improve our part of the presentation besides focusing on her topic. Anthony and Brendan was also shared their opinions about how to improve our overall presentation. I actually learned a lot of new things about video gaming in those meetings. I did couple group presentations before in the University of Waterloo but this teams was really helpful and fun to collaborate with!
Self-Review of Our Ted Talk
Due to sickness, I couldn't even sleep during the night before the presentation and I was so stressed. Normally, I think I was the most calm person in the group when it comes to public speaking but that day I felt so anxious because I was so tired and I coughed every 10 second. I drank 2 monster energy before the presentation and I think it was really good decision because I felt really energetic during my speech.
I think I did maintain a  good eye contact and I spoke with a good volume. The visuals I used in presentation was clear and focused on what I'm saying in that moment. I tried to speak clearly so everybody can understand what I'm saying. I also used hand gestures to emphasize the important information.
But of course there are lots of things that I need to improve or change. I think I spoke really fast due to so much information in my part. I have to slow down so that audience wouldn't  get bored and understand everything clearly. I was not smiling at all during my speech, probably because I was stressed, but I need to smile so that the audience think that I'm confident about my presentation. I tried to add some humour my presentation but I think it didn't work well.
But in overall, I think our presentation was good, interesting and fun to listen thanks to my teammates. Compare to our rehearsal presentation, we really focused on main topic, more on the final one and I think it worked well.
Other Ted Talks
I can say every person in my class work hard. All of the presentations presented well and I learned lots of new information.
There are some honourable moments that I couldn't forget.
I was so bored when I was listening the presentation on algorithm because of the topic ,don't get me wrong, I think it was good presentation. But then the other speaker started his part and explains the Michael Bay theorem about transformers movies. I laughed so hard in that part. Good job man!
The driverless cars presentation was so good and well organized. Everything was so clear and well researched. I couldn't even find a thing that they need to improve to write on peer review paper. Very well-done guys.
Overall, as I said every presentation was so good. If I din't mention you above that doesn't mean that you did bad, please don't get me wrong.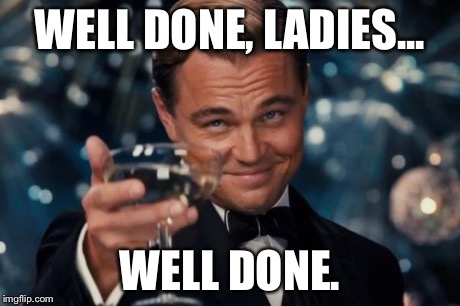 Last Words…
We had to submit this blog post almost a week ago. I'm so sorry but I was so sick last week that I couldn't even get up from my bed. Even if I get 0 point due to late submission I wanted to express my thought about the Ted Talk week. Thank you!
Image Link